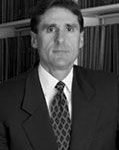 Of Counsel, Rodriguez Tramont & Nuñez, P.A.
Attorney, Habla Español, Miami, Of Counsel
Of Counsel, Rodriguez Tramont & Nuñez, P.A.
Frank R. Rodriguez is an experienced trial lawyer who specializes in representing corporate and individual clients as both Plaintiffs and Defendants in commercial disputes. Mr. Rodriguez's practice has been concentrated in the handling of commercial litigation and arbitrations in the following areas: securities, business torts, contract disputes, professional liability, including lawsuits involving corporate directors and officers and accountants, employment disputes, secured transactions, creditors' rights, and products liability. He offers vast experience in the representation of financial institutions and in litigation arising under federal banking regulations. Mr. Rodriguez is listed "AV" by Martindale Hubbell's lawyer rating service which is its highest rating for professional skill and ethical standards.
Mr. Rodriguez focuses his practice on bringing high-stakes, document-intensive cases to trial; his trial experience includes cases in federal and state courts throughout Florida and in federal courts all over the Country. He has tried cases before juries, judges, arbitrators, and administrative agencies and has been a FINRA arbitrator himself. Mr. Rodriguez has represented Fortune 500 companies, major insurance companies and their insureds, and large financial institutions as well as the FDIC in addition to individuals and smaller business entities. He has secured several multi-million dollar awards for his clients including jury verdicts of $18 Million (professional liability claim against directors and officers of a failed bank), $16 Million (a medical malpractice case against a hospital and surgeon), $14.5 Million (accounting malpractice claim against Ernst & Young) and $5.5 Million (breach of oral distribution agreement claim against Thomson Consumer Electronics), as well as successfully defended clients in cases where multiple millions of dollars were sought. Mr. Rodriguez has also obtained over $100 million in settlements for clients, including a $59 Million dollar settlement with DuPont stemming from product liability claims. His experience and success as a plaintiffs' trial lawyer have given Mr. Rodriguez an insight and perspective that makes him a particularly innovative, resourceful and effective defense counsel.
Mr. Rodriguez is a member of the Florida Bar (admitted 1982), the Trial Bar of the U.S. District Court for the Southern District of Florida, a member of several United States Courts of Appeals, and the United States Supreme Court. Mr. Rodriguez is bilingual and a member of the Cuban-American Bar Association. Mr. Rodriguez is a graduate of the University of Florida (B.A., 1978; J.D. 1981).
Contact
Phone: (305) 350-2300